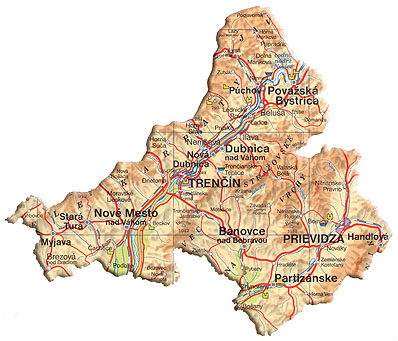 Area: 4,501 km²
Population: 609,828
Number of districts: 9 - Bánovce nad Bebravou, Ilava, Myjava, Nové Mesto nad Váhom, Partizánske, Považská Bystrica, Prievidza, Púchov, Trenčín
Number of municipalities: 276 of which 18 towns
The region has an advantageous location, being served by major road and railway routes that support the development of industry and agriculture and provide preconditions for the prosperity of the region as a whole. For the interest of visitors to the region, whether foreigners or Slovaks, there is a rich historical, cultural and natural heritage. The deep relationship between local people and tradition is seen in the regular folklore festivals, fairs and exhibitions of folk crafts and trades, held to the accompaniment of traditional music.
The development of tourism has been aided by the presence of historical monuments and also to a great extent by thermal springs, a feature found throughout Slovakia.